The 2022 Massachusetts Trapshooting Championships are scheduled for June 9 – 12… starting with the Bay State 400. Mark your calendars and best of luck as we kick off the shooting season.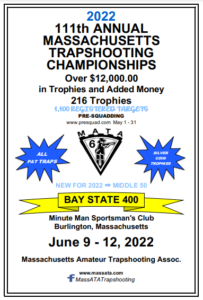 ---
Dear Members and Friends of the MATA,
We are looking forward to a strong, healthy new 2021 shooting season.
THE MASSACHUSETTS STATE SHOOT WILL BE HELD ON JUNE 10, 11, 12, 13, 2021!!!

Please support your local clubs.

Take Good Care,
Paul Donovan
President, Massachusetts ATA
---
Richard Allard, past President of the M.A.T.A passed away on March 24, 2020.
Dick was a Life Member of both the A.T.A and the M.A.T.A. He shot registered targets from 1975 to 2013, total life time targets = 76,875! More about Dick will be coming in a future article in Trap & Field. Dick will be remembered for his kindness and support for the sport he loved!